Eastleigh then on to Italy & Telford!
First Trampoline League 2018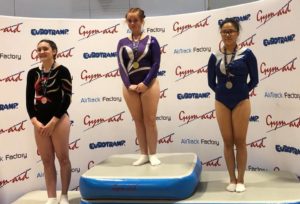 The 2018 Trampoline League season got underway at Eastleigh last weekend. Ten gymnasts from Brentwood Trampoline Club made the journey southwest along the M3 returning with some pleasing results and good memories of the event.
League 3
17-18 Girls
Jennifer Liu led Saturday's 17-18 league 3 event after the preliminary rounds, all her counting execution scores being above 8.0. Having 100 league points, Jennifer is now guaranteed a place at the League Finals that will be held in Sheffield in November. Jennifer continued her fine form in the final round at Eastleigh taking the silver medal as Max Force's Megan Hunt sneaked through on the inside for the win. Jennifer represents Hong Kong at a match in Italy this weekend and we wish her an enjoyable and successful trip. Knock 'em dead Jennifer!
Nicole Burgess competed alongside Jennifer and had a great day, finishing 10th with her best ever two-round total; her vol, starting with a 1 and 3 went especially well.
15-16 Girls
In the 15-16 year age group, Bethan Mapes produced two neat routines to finish 16th while her team-mate Kelsey Hurst ignored a sore knee to jump very high indeed, though less neatly, for 24th. Kate Walker explored the more distant parts of the bed unfortunately but 34th in a field of 54 is still no mean achievement.
13-14 Girls
Tilly With in the age group below jumped with perhaps her best form and height yet and was unfortunate to land the last move of her set routine on the end deck. However Tilly, who finished 39th in the massive field of 70, can take heart from the very evident improvement in her skills.
11-12 Girls
Our youngest competitors, 11 year-olds Anna Gray and Katie Hawtree both had a successful competition: Katie finished 16th and Anna was 8th after lying 5th going into the final. Both girls scooped some useful league points.
The girls' fields are often very large at League events and it is instructive sometimes to compare results with those in the boys' events. Score for score it is possible Bethan would, like Jennifer, have medalled and Nicole, Kelsey, Katie and Anna would all have made the top 8.
League 2
On the Sunday Barney Saggers and Amelia Ward stepped up a level to their respective League 2 events. Barney was second neatest boy in his competition and his good form is a great platform upon which to build. Here Barney was 4th but as his jumping height and tariff increase, he will surely be a medal contender.
Amelia was trying out a new routine that starts with a half-out. This is a very recently learned move and is not yet dependable. Amelia was unable to complete her first routine but scrambled the second, leaving with a smile and the knowledge that with further practice things will be more reliable.
Next Up – Spring Series in Telford

Lilia Kearney, Ashleigh Doyle and Georgia Tyrrell travel to Telford this weekend for the British Gymnastics Spring Series event. This is a high quality competition and we wish them every success.