Schools' Southern and Central Zones Competed on the same day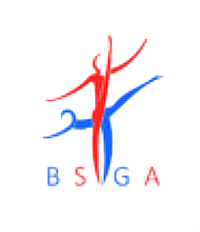 Yesterday saw the second, Zonal rounds of the British Schools Trampoline Competition.
Coopers' Reinforced by Club Members
The Southern Zone, which includes much of London, held its event in Taunton. Coopers Coburn School had a wonderful day there; all 10 of their gymnasts qualified for the Finals in Macclesfield in March.
Among the Coopers Coburn contingent were several members of our club. Leading the way was Issie Boukhoufane who won the Years 7-9 Elite section with two very high scoring routines.
Issie was joined in this event by club mate Maisie Waller and school friend Maggie Smith. Both jumped really well to finish 4th and 5th. Together they won the team event and all three also qualified for Nationals as individuals. Great stuff girls!
Rhys Harding, also a club member, also had a great competition; he finished as runner up in the Year 10-14 Elite group and so will also be going to Macclesfield.
In the Year 10-13 Intermediate category Abbie Meacher was a good 7th and Olivia Walker 16th. In the team event they were joined by school mates (&, until recently, club mates), Lara Jacobs, who was 12th and Amber Henstock 13th. This resulted in them gaining the team runners up spot and they too are through to the finals.
Shenfield high School
Anna performed two very good routines for 7th place in the Years 10-13 Elite section, the day's strongest group.
Anna Gray, from Shenfield High School, had a shorter journey to the Central Zone Schools Competition as we were hosting the event. With over 300 entries drawn from Wales, East & West Midlands and East regions, the centre was busy all day.