Fabulous Results at Colchester 20th March 2022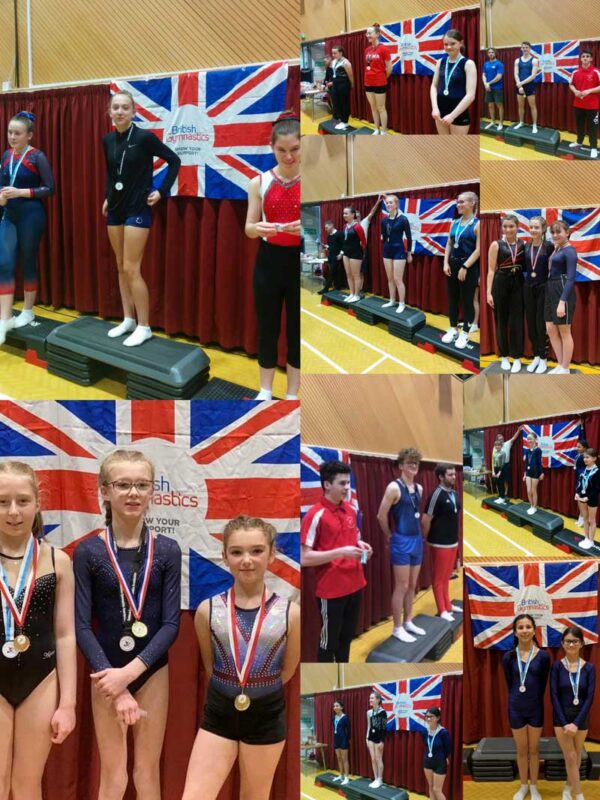 The second Regional Qualifier, which took place at Colchester Leisure World on 20th March 2022, saw Brentwood TC's jumpers bag 10 individual medals, 2 team wins and a team second. Wow!!
Golds went to Mack, Rhys and Issie who all had very high marks. Faith also had wonderful marks when coming 4th in what was a very strong Level 4 field.
More golds went to Katarina, Scarlett and Heidi and there were silvers for Neve B and Tamzin and bronzes for Ellie D and Phoenix.
Teams
In the team events our Level 2 girls aged 11-12 and those aged 13-14 won their events while our 15+ aged team at the same level was second.
Congratulations to Heidi, Tamzin and Ellie (11-12); to Neve T, Holly and Sophia 13-14 and to Olivia, Abbie, Nina and Katarina.
Range & Conditioning
Tamzin had the day's highest Range and Conditioning score of 96 while Katarina and Mack were also pleased with their passes at 81 and 70 respectively.
Thanks
Many thanks to Caroline, Dave, Chris and Pat who coached, to Jo for judging and to Gemma, Katarina, Abbie and Olivia for recording.
Members' Results
Name
Class
Posn
Set
Vol
HD
Exn
Tof
Total
HD
Diff
Exn
Tof
Total
Neve Bradford
Club 2 – Women 11-12
2
9.80
14.50
 –
24.300
9.90
 –
14.90
 –
24.800
Phoenix Ward
Club 2 – Women 11-12
3
10.00
14.30
 –
24.300
10.00
 –
14.70
 –
24.700
Scarlett Bexley
Club 2 – Women 7-10
1
9.90
14.80
 –
24.700
9.85
 –
14.70
 –
24.550
Caitlin Olivia Rawden
Club 3 – Women 11-12
7
9.95
14.80
 –
24.750
9.80
 –
14.70
 –
24.500
Ellie Dohoo
Club 3 – Women 13-14
3
9.75
15.10
 –
24.850
9.80
 –
15.60
 –
25.400
Nicolas Gigauri
Level 1 – Men 11-12
4
9.60
14.60
9.890
34.090
9.60
2.0
13.70
10.350
35.650
Riley Spiers
Level 1 – Men 13-17
5
9.50
15.80
11.840
37.140
1.80
0.6
2.90
2.690
7.990
Jessica Pheby
Level 1 – Women 13-17
18
9.85
15.00
9.000
33.850
9.80
1.6
14.90
9.460
35.760
Heidi Hodgson-Wild
Level 2 – Women 11-12
1
9.80
14.90
12.930
37.630
9.95
3.0
15.30
12.960
41.210
Tamzin Kemp-Baker
Level 2 – Women 11-12
2
9.30
16.50
11.800
37.600
9.60
3.0
16.40
12.190
41.190
Ellie Charalambous
Level 2 – Women 11-12
11
9.75
14.40
10.530
34.680
9.80
3.0
14.40
9.780
36.980
Neve Turvey
Level 2 – Women 13-14
4
9.75
15.80
12.125
37.675
9.65
4.1
15.80
12.005
41.555
Holly Bailes
Level 2 – Women 13-14
6
9.40
15.90
11.790
37.090
9.50
3.0
15.70
12.220
40.420
Sophia Charalambous
Level 2 – Women 13-14
12
7.25
11.40
9.875
28.525
9.25
3.6
14.70
11.690
39.240
Katarina Jones
Level 2 – Women 15+
1
9.35
16.30
13.190
38.840
9.85
4.1
16.40
13.120
43.470
Olivia Walker
Level 2 – Women 15+
10
9.75
15.80
11.690
37.240
9.60
4.1
15.20
11.660
40.560
Abbie Meacher
Level 2 – Women 15+
16
9.85
15.70
11.660
37.210
9.85
3.6
14.90
11.320
39.670
Nina Kennon
Level 2 – Women 15+
21
9.85
15.10
11.100
36.050
9.40
3.0
14.10
11.320
37.820
Charlie Obrien
Level 3 – Men 13-14
6
5.40
9.50
7.120
22.020
9.30
4.5
14.20
11.310
39.310
Rhys Harding
Level 3 – Men 15+
1
9.65
17.50
13.280
40.430
9.20
5.6
17.20
13.200
45.200
Issie Boukhoufane
Level 3 – Women 13-14
1
9.70
18.00
13.200
40.900
9.75
4.7
18.40
13.150
46.000
Tilly With
Level 3 – Women 15+
8
9.35
16.00
12.880
38.230
9.30
4.5
15.80
12.700
42.300
Mack McAuley
Level 4 – Men 17+
1
9.25
17.70
14.810
41.760
9.00
7.9
16.00
14.400
47.300
Barney Saggers
Level 4 – Men 17+
5
9.50
16.40
12.660
38.560
9.20
4.9
16.80
12.610
43.510
Faith Everett
Level 4 – Women 17+
4
9.20
17.50
14.260
40.960
9.40
4.9
17.30
14.220
45.820