Training sessions
The club runs 3 types of sessions to meet a variety of needs, these are:
Club sessions – principally for those with competitive aspirations;
Taster/PAYG sessions – for those wanting to try out the sport or to simply have an occasional recreational bounce; and
Adult sessions – for those 16 and over who want to either compete or simply to have a recreational outlet.
Upcoming sessions dates & times for all types of session can be found on our online calendar. To find us, see location details below.
Club training sessions
These run four evenings a week and Saturday afternoons with 2 x 90-minute sessions each occasion as follows:
Monday 5:45 – 7:15 and 7:15 to 8:45
Wednesday 5:45 – 7:15 and 7:15 – 8:45
Thursday 5:45 – 7:15 and 7:15 – 8:45
Saturday 1:30 – 3:00 and 3:00 – 4:30 (subject to variation due to competitions and school activities)
٭ Bank Holidays excepted.
Please check our online calendar for void dates and other changes.
We try to ensure that younger members are given priority in the earlier sessions and therefore encourage older children to attend the later sessions. Coaching groups are based on ability and development potential and we also cater for those who are more interested in recreational trampolining.
'Pay-as-you-go' – All Ages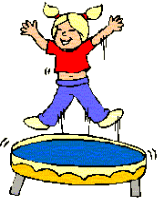 Our popular 'Pay-as-you-go' Saturday pay as you go sessions (see calendar for upcoming dates) serve four needs:
An opportunity for anybody, of any age, to try the sport out to see if it is for them;
A regular opportunity for purely recreational bouncers to attend when it suits them and without having to go on a waiting list or make a regular commitment;
An opportunity for busy adults whose lifestyles do not allow regular commitments to keep up their trampoline skills and, if they want, even compete, and
An opportunity for existing club members to fit in another session if they feel they need it or simply want to bring along a friend.
Adult sessions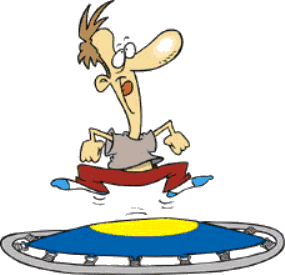 Designed both for keen competitive bouncers as well as those who are simply looking for an aerobic recreational outlet with lots of health advantages or, indeed, to learn aerial skills for another sport, these operate alongside a 2nd session (mostly Wednesdays but also limited space on Thursday) every week. 
Ideally suited also to those parents who wonder why their kids rave about trampolining and need to find out for themselves. We cater for all levels in this group which will regularly see complete beginners mixing in with already accomplished competitors.
Who should attend?
The Saturday sessions do not have an upper age limit and although most attending them tend to be younger we have seen some as old as 50 attend in the past and go on to become active in the sport. Some of our adult members have also regularly competed. We do accept a limited number of pre-school children at these sessions if they are accompanied by a responsible adult.
Costs & insurance
The sessions operate on a pay-as-you-go basis with payment by cash or bank transfer books of prepaid vouchers are also available for a small discount. Click here for our current fees. Regular attendees should consider taking out BG membership for insurance reasons, find out more at british-gymnastics.org. If you do not opt for BG membership a reduced rate of insurance is applied using BG's new Block Registration Scheme – you should be aware that in the event of an incident this insurance pays out much less. Full details of both categories of insurance are available at http://www.bg-insurance-centre.com/.
Availability
Please note, since these sessions operate on a pay-as-you-bounce basis we can not anticipate how many will turn up at any one session. We will always try to accommodate everybody but can not guarantee to do so. As a rule of thumb, we will not wish to run more than 5 to a trampoline (although we do have plenty of those) or 10 to a coach. For Saturday PAYG sessions we ask that you send an SMS Text message to Dave on Friday to book a Saturday slot.
Upcoming PAYG sessions
We try to run these sessions every week but sometimes school events, competitions or other activities prevent this. Planned sessions can be found on our main calendar page; if they need to be cancelled or moved we will update this calendar as soon as we are aware.
Make a note in your diary but please do also check back here before coming to check the session has not been changed. Although we do use all reasonable endeavours to ensure these sessions run as advertised the coaches do sometimes have to rearrange, or the centre has on occasions cancelled a session.
How to find us
The club trains in Courage Hall in the Brentwood School Sports Centre, Middleton Hall Lane, CM15 8EE. Most members visit us by car and although there is a reasonably large car park it can sometimes be busy if there are school events or matches underway. The centre is between 2 mainline stations, Brentwood and Shenfield which are approximately 1 mile and 1½ miles away, both have ample taxi provision but no direct public transport connection. These stations are both on the London 'Metro' (Elizabeth Line) service out of Liverpool Street and Shenfield is also on the Southend and East Anglia routes.
The following google map should help you find us, try clicking on our logo to get directions, if you are pretty familiar with the area just zoom in using the navigation controls in the corner:
View Brentwood Trampoline Club in a larger map.