Qualification to League Finals 2017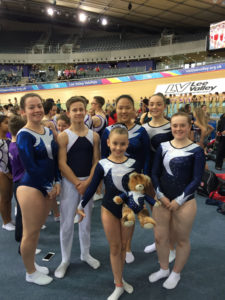 After hosting a successful, Brentwood Open competition the previous weekend, attended by over 300 gymnasts from around the region, several of Brentwood Trampoline Club's more experienced members journeyed to Stratford's Olympic Park. The Lee Valley VeloPark made a splendid venue for the 2017 Trampoline League Finals and BTC's gymnasts enjoyed a Super Saturday.
Having amassed enough league points since May to be ranked among nation's top 24 trampolinists in their respective sections, 11 BTC jumpers were invited to the premier event held on 2nd and 3rd December.
Preliminary Rounds
The preliminary rounds were on the first day with the top 8 progressing to Sunday's Finals. Anna Gray, Nicole Burgess and Bethan Mapes all performed very well though missing the cut with mid-teens placings. Naomi Waldock was especially unlucky to suffer whiplash during warmup and, competing in considerable discomfort, she finished 9th, just outside the qualifiers. Seven team members, however, achieved top 8 placings, four indeed seemingly destined for medals. So Sunday was eagerly anticipated.
Final Rounds
Competing at breakfast time, Ashleigh Doyle and Georgie Tyrell were not so together as usual in their synchronised event but their neatness and difficulty value was sufficient to gain them bronze medals and get the team off to a fine start. Barney Saggers jumped very tidily for 5th place in his individual event but Emma Savill and Jennifer Liu were both disappointed not to finish their routines, leaving them to perhaps reflect upon missed opportunities.
Olivia Watson and Georgie Tyrrell were more successful, both enjoying their best competition for some time, each finishing 5th in their section. Ashleigh Doyle's fourth double somersault was under-rotated however and her next jump took her to an unfortunate, premature ending.
Lilia Kearney was part of a very close competition where just 0.2 points separated the top four. At 10 years of age Lilia was giving away a little in both power and experience to older competitors in the 9-12 event but excellent neatness secured a well-deserved bronze.
Not quite the Sunday that Saturday had seemed to promise but that's sport; it was a great occasion to be part of.