History of trampolining
When we first compiled this site there appeared to be a number of definitive histories of trampolining. One day when time permits we will extract the common elements, quiz the differences and hopefully arrive at a definitive view. There is no doubt, however, about the influence of George Nissen in any of them although whether any particular Eskimo can lay similar claim may be open to discussion. All the relevant materials are collated here in one site and are accessible from the links at the bottom.
One thing is beyond dispute, however, and that is the influence of a local Brentwood man in building the popularity of the sport in the UK. This man, Ted Blake, is worthy of a history in his own right and this club is putting this together and it will be updated here as more becomes known.
Early Trampoline Pioneer
Ted Blake, or more correctly Terence Michael Blake, (19th October 1921 - 6th March 1998) was an early British trampoline pioneer spending many of his active years living and working in Brentwood, Essex. Following the development of modern trampolines in the USA in the 1930's by George Nissen, Ted Blake was to become a major contributor to their nascence in the United Kingdom and in developing International Competition for trampolining worldwide.
Ted and his wife Doreen spent most of their married life living in Hook End, Brentwood, where Ted died of heart failure having survived for 8 years after a triple by-pass operation. He was survived by his wife and two children, Tim & Deborah.
These brief biographical notes are not organised in a strict chronological order although do follow through main phases as follows:
Early Years
Born in Edmonton, North London, Ted went to the local Latymer Grammar School between September 1933 and December 1935, leaving at the end of the term in which he turned 14 (the then permitted school leaving age). After leaving Latymer their records indicate that he applied for a number of jobs for which they provided references such as:
Medical Products Limited (4/8/36)
Royal Navy & Royal Marines (24/9/36)
Barlow Lyde & Gilbert Solicitors (165 Fenchurch Street)
The reference provided to the Royal Navy & Royal Marines by the Head at the time said:
... (he) had never found any instance of dishonesty ... (that) he entered the school in September 1933 and gave notice to leave the school on 20th December 1935. He studied the normal subjects of the secondary school curriculum, including wood and metal work, and with German as his modern foreign language. He is an able boy, and shows considerable development.
(Source: Latymer School Records – courtesy of Denise Blackwell, a staff governor at the school - 2008)
Family recollections of Ted working in a law firm briefly and the evidence from Latymer School suggests that after leaving school he went to work at Barlow Hyde & Gilbert where an unknown family member introduced him. Not enjoying the office-bound life he did not stay there long and was next known to be working for Carter Patterson (pictured right alongside a Carter Patterson lorry of the time), a light haulage and removals company that although merging with Pickfords in 1912 retained its own identity. Listed by army recruitment records as being an Assembler, it might be that this was his role at Carter Patterson although what he might have been assembling remains a mystery.
Army Years & Education Post-War
Ted seems to have first became involved in sport (and Brentwood), during the war. Having enlisted in the Essex Regiment he transferred to the Army Physical training Corp on 14th June 1941. Initially based at Colchester Garrison he was posted to Warley Barracks, No. 1 ITC, on 1st January 1942.
Together with the Essex Regiment's chapel the Number 2 Gymnasium is one of the few visible signs of the barracks having existed – it is now owned by the local authority and known as Key's Hall (Number 1 Gymnasium was destroyed by a V1 bomb several of which fell in the Warley area).
During his time in Warley, Ted met his future wife, Doreen, who was both a member of the Home Guard and employed by the Selo factory in Brentwood processing submarine and aircraft film used by Military Intelligence – they married in 1942. It was a joke amongst soldiers serving at Warley at the time that you "should go out with a Selo girl because she can see in the dark".
Following a brief spell in Hamburg late in 1945, Ted was demobbed on 11th July 1946 having attained the rank of Company Sergeant Major Instructor (CSMI), a WOII rank. Whilst in the army Ted received numerous awards and qualifications including the Royal Life Saving Award, British Amateur Weightlifting Assoc. Certificate of Merit, Amateur Gymnastics Assoc. Intermediate Diploma, qualified as an Amateur Boxing Judge and received a qualification in Swedish Massage!
(Source: Bob Kelly – Army Physical Training Corp Museum)
Doreen was clearly an exception in being a female member of the Home Guard - it was known as Dad's Army after all - although she was not alone. 1 It is believed that she was admitted for a number of reasons including her home's proximity to an AA and Search Light installation in Great Warley, her father having also been posted in the barracks there for a while, and her involvement in intelligence work in the Selo factory. Doreen later became heavily involved in Ted's career with Nissen.
Upon discharge Ted & Doreen are recorded in APTC records as having moved into a small flat in Upton Park (41 Donald Road), and having borrowed money from the Army Association to pay the rent in order for Ted to resume his education. Shortly after this, however, his address is given in the Forest Training Colleges student magazine in 1947 (Forest Murmers) as 10 Boyles Court, Great Warley - (now known as 10 Dark Lane since the original Boyles Court and its farm have been broken up with the main manor house now home to Leverton Hall secure unit for young offenders).
Spending a year at Forest Training College (now Waltham Forest College) in Walthamstow 1947/8 he received his Teachers Certificate, he then went to Carnegie College, Leeds 1948/9 for a Diploma in Physical Education (awarded with Distinction) and finally also appears to have attended London University where he received a Diploma in Health (and another Distinction). The reference provided to Ted by Carnegie is show right. It is of some side-interest to note that the Forest training College was one of many established post-war under the Emergency Training Scheme to replace the large number of teachers lost through the war. The college has now been subsumed into Waltham Forest College.
In his first teaching placement Ted worked at the Loxford School (in Ilford, Essex) and whilst there introduced trampolining. Some histories suggest that Ted first of all purchased a second-hand Nissen trampoline from an Aqua Show in Bournemouth, but this does not sit with Tim Blake's recollections of a home-made trampoline made largely of steel 'plumbing' pipes. It transpires that the first trampoline introduced to the school was, indeed, made to order for £67 and was featured in a Pathe Newsreel in November 1950. Clicking on the picture shown below will take you to the Pathe News archive where you can view this intriguing video where young schoolboys are seen, among other skills, performing 1¾ front somersaults on this pipe, canvas and bungee trampoline. The picture itself shows a young Ted Blake demonstrating the tuck shape required to perform a back somersault.
Trampolining 1950's style
The early successes with the new trampoline, and the formation of links with the Ilford Diving Club coach (Cyril Laxton), saw demand grow and so a second (now a Nissen) trampoline was then procured from the Bournemouth Aqua show in 1949 for the princely sum of £200. These became favourite pieces of apparatus in the school and by 1950 his school squad were already performing double somersaults and giving displays (including one to the Army Physical Training Corp in Aldershot) culminating in them being invited to do a demonstration at the Festival of Britain in 1951. Ted continued to teach until 1956.
(Source: Dennis Horne – Trampolining (A Complete Handbook) ISBN: 0571048684 )
Nissen Factory
It is understood that through his very visible presence in the UK giving high profile demonstrations of 'rebound tumbling', as he originally called it, Ted came to George Nissen's attention and, becoming a close personal friend, subsequently became a senior figure in Nissen responsible as Managing Director for the Nissen UK operation.
Starting with a small office in Hainault circa 1956, Ted made use of an adjacent business, Smiths, to create 1¾" and 1" mesh beds and steel frames to the Nissen design. Ted's marketing skills swiftly came to the fore and in 1957 saw most of a page of the Daily Mirror (12th June 1957) devoted to the new Thumper trampoline which he had installed in his back garden in Manor Park (East London) – the 'bouncing babe' was Ted's daughter Deborah, aged 3 at the time). He also started to transport trampolines around on the top of his car in order to give demonstrations as shown in the house-magazine in 1959 below.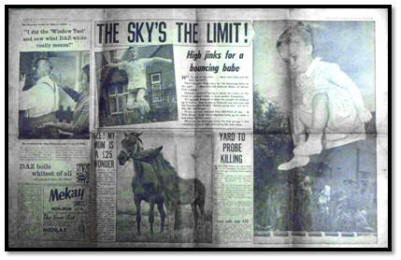 As demand grew, so did the business and it later moved to larger premises, first on Eastern Avenue, Romford in the early 60's and then to its final home in Hutton Industrial Estate, Brentwood in the mid 60's. Along the way it acquired its own manufacturing capability with its own looms imported from Nissen in the US and its own-build steel fabrication plant – this left the business free-standing and able to operate independently of the US operation. The UK-built trampolines were virtually indistinguishable from the US-built products other than that the US specification was for chrome plating whilst the UK specification had a zinc plate finish for reasons of economy (although producing a more desirable finish Nissen in the US had found the costs of setting up and running a chrome plating facility to be excessive).
At first the Brentwood site of some 25,000 square feet was too large but Ted had plans for Nissen to manufacture other sports/gymnastic equipment as well as trampolines and within a few years the premises were having numerous extensions added. As time went on the company outgrew these premises and had to acquire other factory units on the estate to cope with production requirements employing upwards of 150 employees at times. Working alongside Ted was his wife, Doreen, who was in charge of textile operations at the factory (including production of trampoline beds and pads and crash mats, pads and landing areas used for other sports), and his son, Tim. Tim, who started helping out during school holidays (including an appearance on Blue Peter together with Pat Winkle in the early 1960's), joined the company aged 18 and after spending time in all departments rose to the position of Installation/Service Director responsible for remote operations away from the Nissen plant. This covered the supply installation and service of all fixed equipment seen in a modern sports centre from the court markings to the division curtains and basketball units and the service/repair of portable equipment including trampolines. The company held many service contacts with government and educational bodies.
A less formal aspect of Tim's role was to help Ted out testing new ideas and apparatus (or as Tim calls it – as Crash Test Dummy). Mainly this testing involved safety equipment (trampoline spotting rigs, belts, pads etc) and the trampoline itself; on one occasion Tim was stuck in the roof for 20 minutes due to a failure of a trampoline spotting rig under test! Ted Blake & George Nissen were very safety conscious and insisted on safety being paramount when it came to Nissen equipment and so testing was an important aspect of their practice. George Nissen coined the phrase "Safety is NO accident" while attending a trampoline conference discussing safety in London in the mid 1970's - this phrase is now used world-wide.
As we have already seen above, Ted was, however, always very focussed on 'marketing' his trampolines (and other Nissen products) not only through introduction of the competitive sport (see below) but also through a range of events, demonstrations and stunts. Many of these involved his son Tim as a demonstrator (pictured right aged 6 in August 1959 at a Girls & Boys Exhibition in Olympia).
Whilst managing George Nissen's UK operations, Ted (invariably accompanied by Tim, a skilled, although not competitive, trampolinist), regularly toured the UK and, as the Nissen trailblazer for Europe (starting up some years before Kurt Baechler's Swiss operation), all parts of the continent promoting Nissen trampolines and other products at events or competitions.
An associated trampoline product that achieved quite a following at the time was Spaceball. This game was a team game played on a single trampoline with two near-vertical end-walls and a middle wall with a tunnel through which a ball could be 'shot' to score a goal on a target area on the other teams end-wall. This was major focus of Nissen's marketing efforts with demonstrations of the game being given all around the world. The picture below (taken in Paris on 30th October 1965) shows Nissen about to defend a goal attempt by Pat Winkle, Tim Blake is standing on the frame on the right-hand side, the other player is unknown at this time.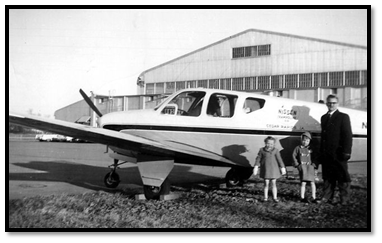 On these occasions he travelled either in the firm's bright 'buttercup' yellow (the Nissen corporate livery) van or, often with Nissen himself and other 'Nissen pioneers', in the similarly liveried Beech B35 V-tail Bonanza plane owned by the US-parent business. (The plane is pictured above with Ted and family in New York Airport (now JFK) en-route to Florida from Cedar Rapids, Iowa circa 1958).
Pathé News recorded a demonstration at Clacton's Butlins camp in 1964 with a politically incorrect reference, by today's standards, to the young ladies featured in the clip:
On one memorable occasion Tim recalls that they spent time with a British contingent at an exhibition in Kiev in Ukraine – then part of the former Soviet Union (USSR). Politics determined that the trampoline equipment be left with the Russians after the exhibition which Tim considered to be a fair exchange for meeting Olga Korbut!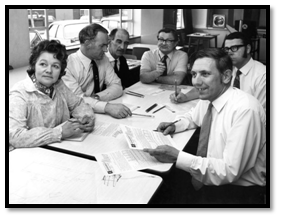 The mid-70's saw the US operations of Nissen become increasingly nervous about a string of law-suits from those injured using trampolines. Fearing continued litigation Nissen Corporation's US trampoline operations were terminated leaving the emphasis on Universal weight training equipment (Universal Corporation was bought by Nissen USA in the mid 1970's) and other gymnastic/sports products.
This left the Brentwood factory, under Ted's leadership, one of the few places in the world still manufacturing trampolines. For a period of a few years, Ted (pictured right with his management team in 1972) continued to develop Nissen trampolines introducing the first of the, now standard, DIN specification trampolines known inside the company as "Dinamic" or "Humdinger" trampolines. These trampolines were significantly larger than the Goliaths they were replacing and required a new jet painting technique since the end frames no longer fitted into the zinc-plating tanks. The picture below left shows Ted's son Tim looking over one of these old trampolines at our club just recently, sadly it is no longer in use through lack of a suitable sized bed.
Meanwhile, Ted together with a raft of talented performers, continued to tour the UK promoting Nissen Trampolines in the mid-70's as shown in the picture above right (performers include John Beer, Ron Munn, Ed Cole, Paul Luxon & Pat Winkle among others – many of these being trampoline legends in their own right!)
In 1975 the Chartered Institute of Marketing (of which he was a member) recognised Ted's marketing skills by giving him the National Award for Outstanding Contributions to British Marketing.
(Source: Ted Blake: An Inspiration to Leisure Managers ISBN 1 873903 97 9).
Fear of the US litigation epidemic reaching the UK, however, lead to Kidde, now owners of the entire Nissen group, wanting to halt trampoline production in Brentwood in the late 1970's. Trampoline production finally stopped in the early 1980's just after Ted Blake's departure from the company. The remaining Nissen management didn't much want to go against their new owners wishes and did not have trampoline interests or backgrounds. The company finally shut down in the mid 1980's having moved heavily into the Universal line of equipment.
With Nissen trampolines now no longer available the way was open for others such as Ceetex, Eurotramp, Continental & Universal Services (Unitramp) to develop the still growing market – indeed, Ceetex and Unitramp can directly trace their roots back to the Brentwood Nissen operation and still operate from Essex. Universal Services was founded by ex-Nissen employees in 1979, initially to service sports equipment but ultimately turning to trampoline manufacturer once Nissen withdrew from providing spares replacements. Ceetex followed suit in 1983 under another ex-Nissen manager when the new Nissen management, under Mike Burgin, wanted to release more space for warehousing rather than manufacturing beds and other textile products. Both firms can still trace their current trampoline designs back to Nissen originals.
(Source: Stewart Reagan at Universal Services (Unitramp) & Colin Gay at Ceetex).
Those who recall working for Nissen UK, including Stewart Reagan of Unitramp and Colin Gay of Ceetex (now both highly successful with their own companies), claim Ted to have been an inspirational leader. This leadership quality was one Ted exploited by offering his services as a motivational speaker to the leisure industry during his time at Nissen. Although during this time these speaking engagements were substantially intended as a promotional activity as suggested by his often-used opening line which went:
"Those of you here who think I am doing this just to promote the Nissen name should be hung……… However, should you need anything hung…. like basketball units or division nets then I'm………….."
… in his post-Nissen years, Ted established a highly successful following in the Leisure Management Industry.
Competitive Trampolining
Together with Kurt Baechler of Switzerland (who through Nissen AG was the main importer of US-built trampolines into continental Europe), Ted was credited with the introduction of trampolining to Europe. Being passionate about trampolining he was not only involved in their commercial development but in developing the competitive framework we see today which is far removed from the early competitions in the USA before the 1950's where athletes performed sequences of as many tricks as they cared to.
(Source: Ron Munn)
Ted was heavily involved in establishing the UK National Championships which was to become the first televised national championships. The first Championship, however, was first debated between Ted Blake at his home in Gidea Park with Jack Garstang (Regent St. Poly), Geoff Elliott (one-time AAA team-captain), Syd Aaron (Cardiff training College) and Dennis Horne when they formed the AGA Trampoline Committee. As well as rules and regulations for trampolining they also devised the compulsory routine for the first national championships – originally intended to be of 8 moves it ended up with 9 (like many embarrassed coaches constructing a routine today, they forgot about getting back to the feet) and would surprise many modern trampolinists:
Tuck jump;
Pike Jump;
Back S/S (T);
Knee drop (!!);
Front S/S (T);
Seat drop;
Swivel Hips;
Roller;
To feet.
(Source: Dennis Horne – Trampolining (A Complete Handbook) ISBN: 0571048684 )
That same year, following these first World Championships, he attended an inaugural meeting of prominent trampolinists in Frankfurt to discuss the formation of an International Trampoline Federation. This was launched as the (FIT) in Twickenham in 1965 and Ted became its first Vice-President, a position he held until 1967. So influential was Ted at the time that three of the first four World Championships were organised by him and held in London where he also judged - at this time the competition took place every year.
(Source: Rob Walker brief history in Bounce 2000 information booklet).
Together with other UK trampoline pioneers such as Bert Scales and Rob Walker, Ted (together with Loxford School alumnus Pat Winkle, the 1963 British Champion and a Nissen UK employee latterly heading the UK sales force), was also responsible for the formation of the British Trampoline Federation (BTF). The BTF was formed in 1965 through the amalgamation of the Trampoline section of the BAGA and the British Trampoline Association (BTA). Ted remained involved with the organisation for many years becoming President in the year 1981-1982 after he had left Nissen. Rob Walker was appointed Secretary and Chief Executive of the BTF upon its inception and remained in that role until its 'reintegration' with the BAGA (now BG) in 1999.
(Source: BTF Roll of Honour – BTF handbook 5th edition edited by David Pickup).
Having delivered an infrastructure and senior level competition, Ted continued to be heavily involved in promoting competition, and in 1973 working with Bob Bollinger and George Nissen created the World Age Group Competition which now runs alongside the World Championships every two years. The first competition was held in the newly-opened Picketts Lock Centre, London with Carl Furrer, one of Ted's Nissen protégées in future years, a winner. Ever-mindful of promotional opportunities, however, Ted also organised a world trampoline safety conference in the Bloomsbury Hotel to coincide with the WAG competition.
(Source: John Beer).
Ted appeared, however, to not always be comfortable with authority despite having been instrumental in establishing so much of it. In a series of articles he wrote in May & June 1972 in his Lift Newsletter he was particularly scathing about the FIT he had originally developed, questioning why it was so bureaucratic and gymnastics oriented.
(Source: Rebound International Journal, Volume 1, No. 1, August 1972 – where the articles were reprised).
One of few Britons so honoured, in 1976 he was recognised by the United States Trampoline & Tumbling Association for his major influence on developing modern trampolining by being added to their Hall of Fame.
(Source: Official USTA Trampoline, Tumbling & Double Mini-Tramp Handbook, 2008). 
Post-Nissen Years
After leaving Nissen in mid-1980, despite remaining actively involved with the trampolining community (as picture right taken in August 1988 shows), Ted drew on his teaching background and developed a further career for himself in the still-fledgling "Recreation Management" industry.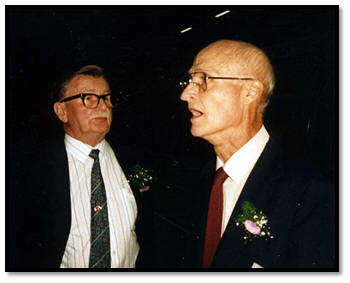 Ted was in great demand by various sports associations/ bodies to give talks & training covering leisure management based on his experiences whilst still with Nissen; in all he worked with more than 150 local authorities and 500 companies who wanted an insight into the fast growing sport and leisure industry.
Being a leading figure in developing the management skill levels in the UK Leisure Management Industry, Ted, working with Harry Littlewood of the Sports Council, introduced a number of initiatives such as:
Inaugurating RECMAN – the Recreation Management Conference; and
Sports Centre Management of the Year Award scheme.
In the book used as source for this section, the Institute of Leisure and Amenity Management paid tribute to Ted's contribution with the following:
"Although the word is often misused, In Ted's case he really was a legend in his own lifetime and a legend during the short history of modern leisure management. Those of us that go back that far will remember his inspirational presentations at the Recreation Management conferences … all drawn from his extensive experience with Nissen. His anecdotes and amusing aphorisms, reinforced by his unique illustrative talents have stayed with us ever since:
'Don't tell 'em that you know, show 'em that you care';
'Ten years' experience can be one year's experience repeated ten times'
Ted was one of the first evangelists of the need for the customer-focussed approach in the fledgling recreation management profession and raised our awareness to the importance of systematic performance management"
A strong feature of all Ted's presentations was his artistic flair and wit in putting across key points, as an example the picture reproduced here addressing a point he wanted to make about 'fishing for answers', make the point better than words might.
(Source: Ted Blake: An Inspiration to Leisure Managers ISBN 1 873903 97 9).
Community
Although not actively involved with any local club, one club local to the Nissen factory did develop a useful symbiotic relationship with Ted and the Nissen business. Quite often before launch of a new product the local Shenfield Trampoline Club, now no longer in existence, was provided with prototype equipment for final 'consumer testing' for Nissen. This invariably gave the club the benefit of new equipment at no cost although sometimes the results were less happy – one of the senior coaches at the club at the time (Jean Burrows – also an International Judge at the time), recalls one experiment using Nylon webbing as opposed to the more usual fabric. When tested in the factory the problem did not manifest itself but when used by youngsters learning basic moves it was soon discovered that nylon can burn rather than simply graze!
Ted was also instrumental in one of the few British world champions being able to dedicate so much of his time to training. Carl Furrer was employed by Ted to work at the Nissen factory but given ample time to train as well.
© Original Research Copyright Dave Kingaby & Tim Blake 2008 - no reproduction without permission.
Other history-related resources